At Ajanta science is at our heart as we embrace R&D as an integral part of our business strategy. We have been consistently investing in it for decades.
Our core strength lies in our ability to excel in developing differentiated generic products backed by our dedicated teams in formulations development, process chemistry, and analytical development. This has helped in building a competitive advantage.
Our R&D facility is spread across 100,000 square feet area and has 800+ diligent and committed scientists. Based in Mumbai, the facility has a range of state-of-the-art equipment for formulation development, working on different dosage forms such as tablets, capsules, powders, oral liquid, topical creams/ointments/lotions, sterile eye drops/suspension, nasal sprays, dry powder inhalers, and injectable.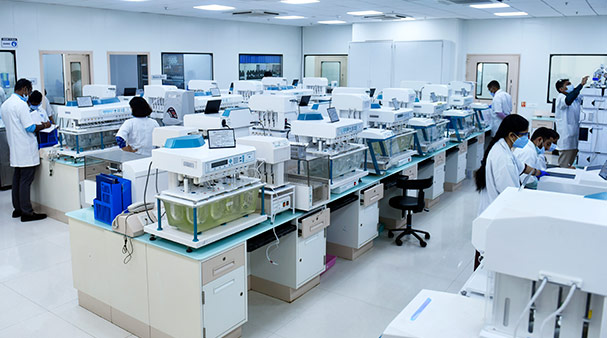 We have an equally well-equipped Active Pharmaceutical Ingredient (API) lab to synthesize high value APIs for some of our key products. Many of the formulations developed by our R&D are first of its kind and now hold leading positions in its sub-therapeutic segments across different geographies.

The research centre primarily focuses on development of new formulations with an objective to introduce 1st to market products providing convenience and better patient compliance. We have been taking continuous initiatives towards technology absorption, adaptation and innovation at our R&D Centre, encompassing latest technological developments in the field of research.

One of our notable R&D achievements is in the segment of anti-malarial with our flagship brand, Artefan (Artemether + Lumefantrine Tablets). Ajanta was the first generic company pre-qualified by the World Health Organization (WHO), Geneva for this artemisinin combination drug.

Our flagship anti-hypertensive brand MET XL is another such notable achievement of our R&D. It is 1st to market extended release product for metoprolol in India. With once a day dose form, it brought customer convenience and improved compliance.
Our team is provided with an environment that nurtures excellence and innovation, which is most essential to develop complex and challenging first-time combination products. The R&D team is involved in all projects from concept to Phase IV study besides tracking market acceptability and after-launch status.